The Q3 results of Roche disappointed the market. At 11:00am the spot is down 4.70%… The stock is now down 19% YTD and down 37% since January 2022.

It is a big problem.

As big as the total inventory of the Nestlé-Roche-Novartis yield enhancement products in Switzerland.
It is an ongoing joke amongst structurers in Switzerland that it does not matter how good your ideas are, at the end the clients want to trade a worst of Nestlé-Roche-Novartis. So far the stats of those 3 were unbeatable. But Roche is putting the Swiss legend at risk.
Since January 2022, Roche has steadily underperformed. As a consequence, autocalls are not autocalled, the risk is concentrating on one name Roche. Repo, dividend risk, and importantly gamma (long for the moment) is on one name. As the spot goes down, the long gamma of the street increases, so the realised volatility also goes down because of the gamma hedging activity. Boringly, but steadily, Roche is going down.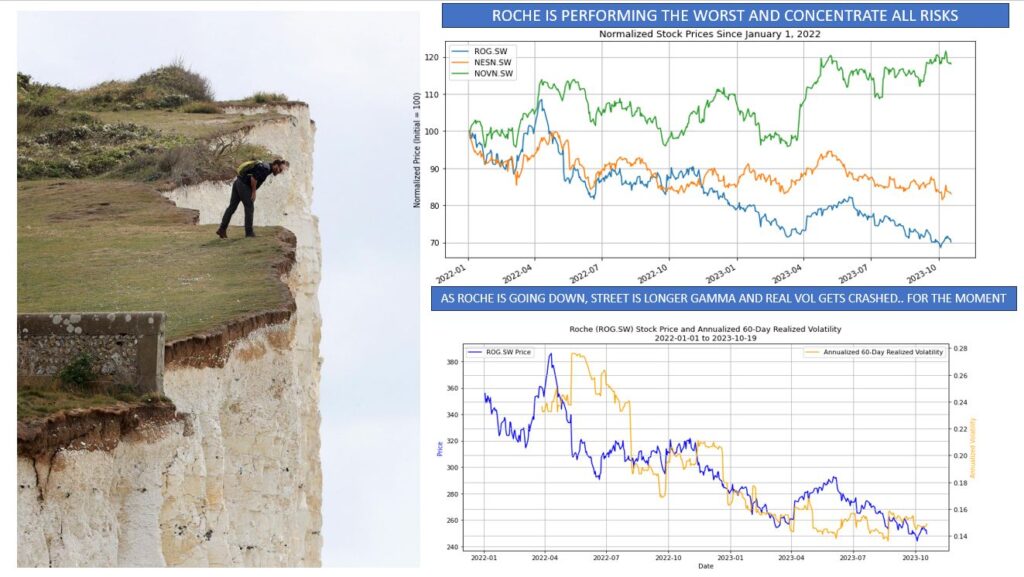 But going too much down though means crossing the levels of barriers. Most barriers are European now since 2020, but still.. if the stock goes further down, the gamma will change sign… (It is actually Taleb's definition of an exotic option; the gamma changes sign!) and dealers may have to rush to cover their shorts, and what used to be a boring walk may become a wild episode, and volatiltiy should spike.
Where is the bulk the barriers? probably 5 to 10% away from current levels.
One year ago, the South Korean regulator was issuing a warning that at the prevailing level of HSCEI, $500million of South korean wealth was at risk because the index was slightly below the barrier levels. No doubt that the amount of wealth at risk at those levels of Roche is way way higher. Not sure the Swiss regulator will say anything, but Swiss investors will surely do!